The Carefree, Comfortable & Economical Way to Go!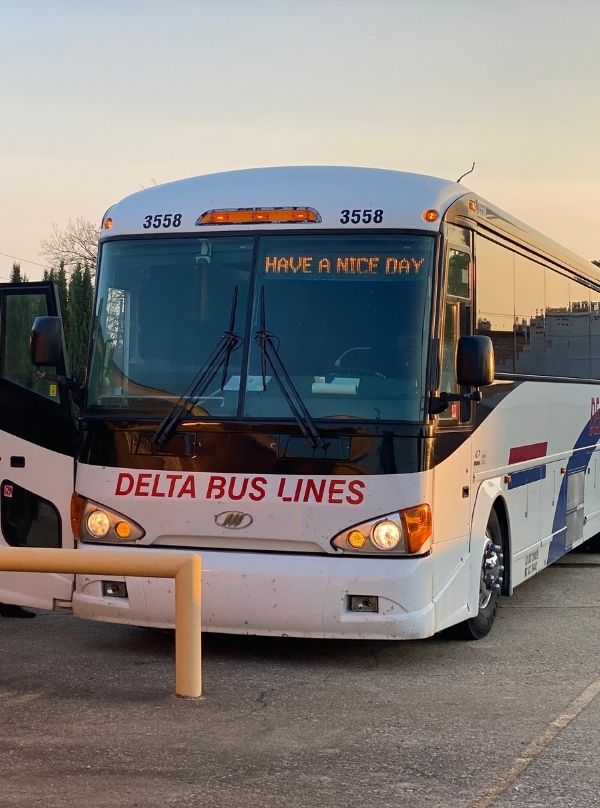 Delta Bus Lines, Inc. has over 40 dedicated people to serve you.  We take pride in providing the finest quality in motor coach transportation and in servicing the Mississippi Delta for over thirty years.
Delta Bus Lines specializes in a variety of services including scheduled regular route service between Memphis, Tn and Baton Rouge, La via U.S. 61 and 82, and between Memphis, Tn and Jackson, MS via U.S. 61 and U.S.49W. This service includes transporting passengers, baggage, and package express.
Delta Bus Lines has seven service locations across the state of Mississippi.
You can always purchase tickets online.
1604 State Street
Clarksdale, MS 38614
800 Davis Street
Cleveland, MS
3107 Hwy 82 East
Greenville, MS
106 Martin Luther King Blvd
Indianola, MS
127 Wood Ave #101
Natchez, MS
Clevelands Exxon
710 Church St. & Hwy 61
Port Gibson, MS
Vicksburg closest pickup: Port Gibson, MS
Delta Bus ranks in the top 1 percent among registered carriers in the U.S.!
Looking for a career in the bus lines service?
All Delta Bus Lines buses are equipped with wi-fi, air conditioning, an on-board restroom, reclining seats with headrests, footrests and tinted windows.